The Challenge: Create a comfortable, beautiful environment for a building dedication for more than 1,100 people. Do it on-site, on sloping topography and make whatever you do blend in with the surrounding environment. That's what Modern was tasked to accomplish in helping BioFire Diagnostics dedicate their new facility at the University of Utah Research Park in the foothills high above Salt Lake City.
This would be no ordinary ribbon cutting under a canopy. This event, stretching over two days, had to be first class. This was BioFire's chance to impress their every growing employee base as well as local dignitaries and VIP's from their parent company in France.
Modern designed the implementation of a tent structure for the meeting. This structure had to have a leveled floor, climate control, high end audio visual capability and needed to look "intentional" in the natural environment.
To mask the more than 12' in elevation change, and to help the structure blend in with the natural environment, Modern designed a landscape package, complete with a water feature that mirrored the foothill ecosystem and drew off of nearby Red Butte Botanical Garden. Here are the results: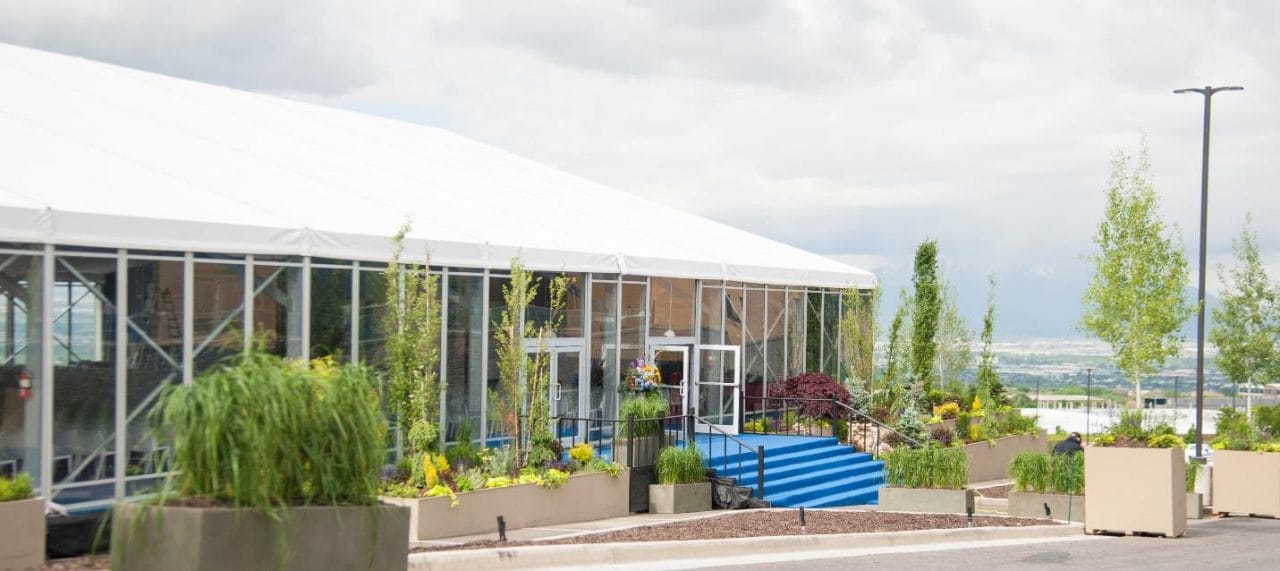 Floor to ceiling glass windows on each side of the tent allowed guests to have a view of both the new building that was being dedicated as well as stunning views of the entire Salt Lake Valley. This provided a challenge for projection of images with all the natural light that would spill into the tent. To counter this, instead of screens and projectors, we used giant LED walls that would provide a brilliant image that would be unaffected by natural light.
What an exciting project! We were privileged to be a part of the planning team that met weekly for more than six months in anticipation of this event. We could not have pulled it off without our great partners at Love Communications, Webb Audio Visual, Culinary Crafts, and Diamond Tent.